"It's hard to give someone your heart, even when you love them. It's scary, right?"
Sports agent, Carter Crawford, and supermodel, Vale Martin have an instant connection but keep things super casual. Vale doesn't want a true commitment. Cool, so Carter goes and buys an engagement ring. Smart? Nah, that's crazy bruv. Everything backfires and what the pair has is dunzo.

Until, Vale shows up at Carters house begging him to attend her little sisters wedding as her fiance. Cool, so Carter agrees because he's, again, CrAzY. …Crazy about Vale. Is the wedding weekend fate's way of bringing Vale back in to Carter's life? For good?
Fake Love is such a sweet second chance romance. A heartfelt love story! Jillian Dodd delivered a chef's kiss happily ever after that will leave readers will a full heart and tears in their eyes. Did somebody say food?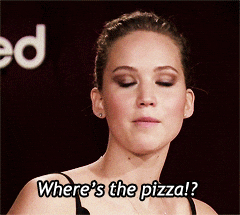 Mushroom and onion with a white sauce. DROOL. Gimme all the pizza. I LOVED Vale's grandma and her jokes. Grandma is a trouble maker! She is a HOOT! Carter is super charming, he can make anything happen, he's magic. If you've ever wondered how JD's HEA read, Fake Love is a perfect place to start! The Crawford brothers are mighty fine.
"Aren't love stories so romantic?" Sigh. I have dreamy hearts in my eyes 😍
Thank you Jillian for an advanced copy! I love all your books!
✨READ IF YOU LIKE✨:
-stand alone love story
-second chance romance
-fake dating
-pizza 🍕
-grand gestures
-a journey of rediscovery
-dual POV
-family dynamics
-city life x small town
-#IsThisAKissingBook: Grandma is determined to make it happen. 😘
🎶 song: Lovefool by twocolors ft Pia Mia 🎶