"But, my lady, you mistake need for want. What I yearn for in all hours of night, what I crave, what I hope for-when my kingdom is shrouded in the dark threat of war- is you."
"What if Queen Elizabeth I married her beloved Robert Dudley and gave birth to a son in 1560? A son that would become the last, and most notorious, Tudor monarch of all… Nicholas the Ironheart." Eep! His name emits horror. Like Stalking Jack the Ripper. Shudders. Nicholas was crowned king of England at the age of 12. His eight-year-old sister, Catherine (Kit), was murdered under mysterious circumstances and the king's reprisal was HARSH, earning him his terror inducing nickname. Twenty-first century America…The same day Emmie Grace is assigned an essay on the infamous king Nicholas, she also is in possession of a bizarre ring. A time travel ring. If Emmie is going to try and find out who is responsible for Kit's murder, she better work fast!
Okay, I am the worst Sherlock Homeboy in history of all history. I did NOT see THAT coming. Like…

Ultimate shock! And Nick. sighs dreamily. Funny and a king. Merciful and kind. He is like the eye-candy boss. The last 30% of the book is nail biting! I was breathless with anticipation. And anxiety! Suspense!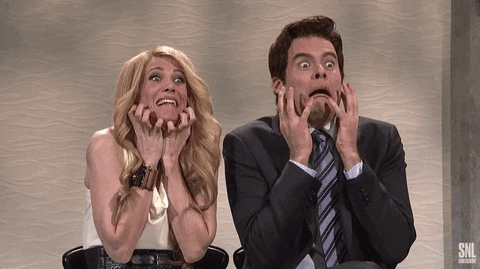 HOW IS THIS GOING TO PLAY OUT? Stakes are high, hearts are pounding, eye balls are being willed to read FASTER! Don't worry, you'll be able to breathe again. What an adventure. Emmie and the Tudor King is an enchanting time travel romance, that YA bookworms need to read!
✨READ IF YOU LIKE✨:
-star crossed love stories
-dreamy kings
-solving mysteries like a sleuth
-YA sci-fi
-time travel
-#IsThisAKissingBook: "I ache to kiss you"
-16th century Tudor England
Thank you Natalie Murray for an advanced copy!
🎶 Song: King and Lionheart by Of Monsters and Men 🎶