"I have to ask, though. Am I really the worst thing to ever happen to you?" "Obviously, YES." He smiled. "Same."
Once upon a time, around three years ago, a girl turned a boy into a Beast. He was a jerk so she didn't have to do much to make it happen. And then he left the kingdom and disappeared. Until one day, the Beast came back. Carmen Aguilar just wants that HEA life; however, she's stuck working the summer as a party princess for a company called Dreams Come True. Then that company is hired for her spoiled cousins, over the top quince. And who is Carmen's dance partner, also working at Dreams?

None other than Mauro Reyes….the Beast. The nitwit that broke her heart. Ay! Will Carmen find her HEA? Or will her summer be her own personal telenovela.
Once Upon a Quinceanera is such a wonderful delight! I've got salt-sticky cheeks from wet tears!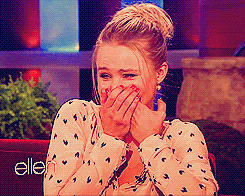 I felt all the emotions for Carmencita…not getting her own quince and her absent father. Goodness, my heart hurt for her. And Mauro Reyes… Can you see my love-struck smile? He's a precioso bollito. Ultimate cinnamon roll!
Actual footage of me during a specific, heart-warming Mauro scene. AND I LOVE HIM. sighs dreamily. No joke, when I say I was snort-laughing on page two. Several one-liners that were unexpected and had me LOL. Carmen has that teenage sarcastic wit that I revel in. Monica Gomez-Hira knocked it out of the park with her Own Voices, debut novel.👏🏼
💃🏼 READ IF YOU LIKE 💃🏼:
-coming of age YA
-sarcastic wit
-second chance romance
-"dancing in a gorgeous ballroom serenaded by that teapot chick"
-#IsThisAKissingBook Si! He's the beast to her beauty
-family drama & dynamics
-that Disney fairy tale life
-Bienvenidos a Miami (I sincerely hope you are now singing Will Smith)
🎶 song: Hung Up by Tritonal, Sj, and Emma Gatsby 🎶